Our Expert Principal Surgeon Dr. Mamontova
At HTG (part of Harley Street Hair Transplant Clinics) we have to keep our standards high due to the CQC and HIS regulations. This is why our surgeons are on the register of the General Medical Council and have many years of experience in performing hair transplant procedures to a high standard. You can read some more information about our principal surgeon.
Dr Tetiana Mamontova – Principal Hair Transplant Surgeon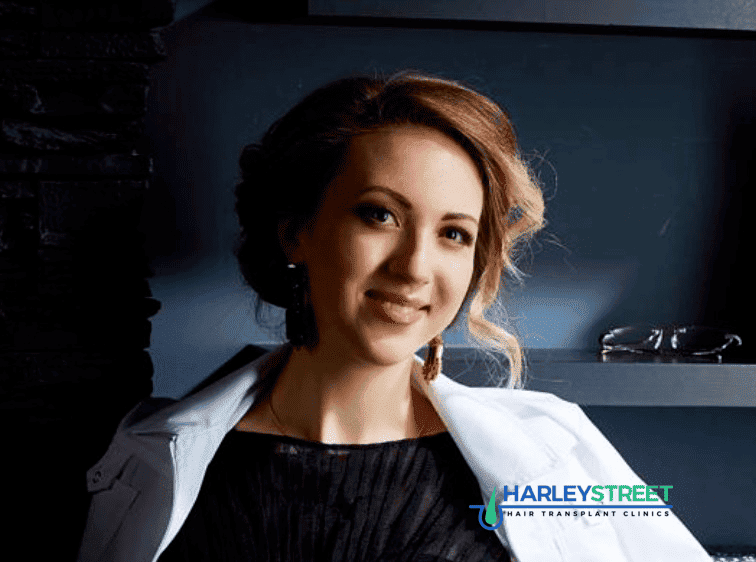 Dr Tetiana Mamontova, Principal Hair Transplant Surgeon. Dr. Mamontova holds a full registration with the General Medical Council – Reg. Number: 7322628 (source)
Dr Mamontova is a highly skilled and experienced hair transplant surgeon who's work is very well established. Dr Tetiana specialises in Follicular Unit Extraction (FUE) procedures including patients with Androgenetic Alopecia of Norwood scale 1 – 7, eyebrow restoration and beard restoration. Dr Tetiana has performed over 2,000 procedures to date on both men and women utilising the shaven and unshaven DHI method. Past patients include famous faces from film, television, music and sport.
Dr Mamontova is a member of the International Society of Hair Restoration Surgery (ISHRS) and the Independent Doctors Federation (IDF).
Google Reviews
After 6 months most of my hair has fully grown back. With finasteride and minoxidil and the professionalism of this company I couldn't of asked for a better job. Thanks again guys!
Kaiden Nolan


April 18, 2022
Wow! Dr. Kalra is extremely thorough and enthusiastic about his work. As a patient, his professional manner put me at ease. He took time to design a natural hairline and even gave me his personal phone number to look after me following the procedure! The whole staff, including Kevin on the sales side made the patient experience fantastic. After two weeks, i was mostly healed and on my way. Thank you. Great team effort! 😃
Don Graham


January 3, 2022
Kevin, Dr Kalra & team are probably the hardest working people you'll find in the industry. From initial consultation to aftercare, these guys have been very responsive and informative. To be honest, I've been at ease through the whole process. Dr Kalra is an expert technician and has been on hand for any follow up queries i've had following the procedure. The team of technicians that supported Dr Kalra were again, very proficient and professional. You're in safe hands with Kevin & team. FYI: Procedure : Hair Transplant(FUE) Location: Edinburgh Time: September 21'
Rob Joyce


October 28, 2021